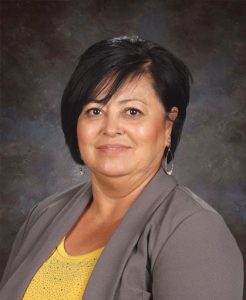 Riding in the back of a covered truck is how I remember crossing the border from Mexico to the United States. I was seven years old and my mother, two sisters, and I came to meet with my father, who had decided to reside in Utah. I started first grade not knowing the English language, and I still remember very clearly how I felt and how hard it was to adapt.
My name is Romelia (Parra) Urrutia. I am currently a Special Education teacher at Carbon High School although I have spent the last twenty-six years working as the Language Specialist/ESL Coordinator for Carbon School District a position which has given me very deep satisfaction in knowing that I have made a difference in many of the English Learning students that I have worked with over the years.
I am second to the youngest of nine children and am proud to say that I always wanted to further my studies and become someone that my family would be proud of. I always loved studying and making progress. My parents did not speak English, which made it hard because they did not understand that a girl should be independent and continue further education after high school graduation.
I continued a college education at College of Eastern Utah and graduated with an Associate degree in 1990. I married a man that has been very supportive of me and my education and after working as a paraprofessional at the school district, I was again wanting to continue my education. I went back to get my teaching certification with Utah State University then shortly thereafter I had the opportunity to go to Brigham Young University to attain a degree in Special Education with a Minor in linguistics, which has been my passion. I graduated from Brigham Young University in 2007 and now I would like to continue my education as a school leader in hopes that I can be a role model and actively be involved in the development of programs and decision making especially when it comes to English Language Learners.